How to Manage an Overbearing Mother-In-Law
Updated: Nov 1, 2021
You may have heard of this as a stereotypical joke, or even just a really fun J-Lo movie (seriously, its hilarious), but marriage is two families becoming one, so you want to make sure you are getting off on the right foot with your future mother-in-law! When planning a wedding, your future MIL might not be the first person on your mind, but sometimes they make themselves (and their opinions) known. It's important to keep her happy, but it's also important to hold on to your dreams for your big day. This is especially so when their style doesn't quite match yours – which is okay! Maybe she has amazing ideas, or maybe she doesn't. Assuming it's the latter, here's 5 ways to include your excited but overbearing family member
Give the hard speech (or better yet, ask your fiancé do it if they are willing): "I'm feeling a bit overwhelmed with your suggestions. I promise I will look at them and take them into consideration, but I need some space to decide" or "I'm taking my time to decide what's right for us." This one is the most direct, but sometimes with big risk comes big reward!

Give them something inconsequential but important to do. Ask for them to pick some songs for the DJ to play, oversee the guestbook both before and day of, plan the rehearsal dinner, plan the bridal shower, pick the favors, or have them reach out to members of the family that haven't RSVP'd yet. This takes work off your plate and delegating helps your MIL contribute while giving you space to choose colors and cake flavors.

Invite her to your dress search. In a personal case, my MIL only has sons and won't have a daughter to go through the dress search with. Inviting her gives her that opportunity and allows her to be a part of a special moment. Invite a good crew to help even out her opinions if you have a different style than her.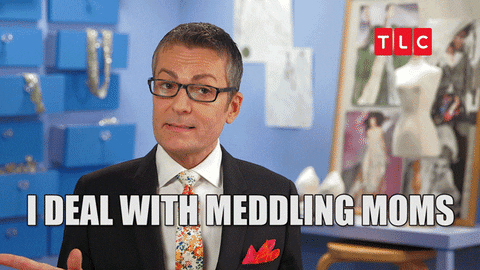 Offer to have her hair and makeup done on the day of the wedding. This allows her to have a primping moment and makes her feel special on the day of. This also allows for you to control how her makeup looks on day of. Win-win.

There's always the father daughter dance but a great way to make MIL feel special is to include a mother-son dance. This makes for a tear-jerking moment and for some great photos. Your MIL will feel loved and special, and it gives your fiancé a moment with her too!